Mikey Ceylon Jones, Jr.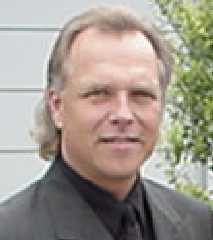 Born February 2, 1957 in Vincennes, Indiana, Mikey Ceylon Jones, Jr. has left an indelible mark on the lives of family, friends and church members during the 43 years of his lifetime. Loving praise and worship, Mikey stepped inside the Celestial City on May 25, 2000 to worship the King of Kings face-to-face.

Mikey

=s dynamic personality, leadership and musical gifts began to bloom at the young age of 5 when he started singing publicly in church. His love of music in playing trumpet or the baritone in high school, performing in Gospel and rock bands or playing the piano as part of the Jones Brothers Evangelistic Team in Florida would unfurl an important aspect of his ministry throughout his life. During his early pastoral years it was not uncommon to see Mikey lead the congregational singing from the piano bench, then continue with the remainder of the service from behind the pulpit.

To those who have known Mikey it is not surprising to learn that he was a popular guy during his high school years, serving as Junior Class President and Student Body President during his senior year at A.C. Mosley High School in Panama City, Florida. His charismatic leadership style was also an important part of his ministry.

Being a son, grandson and great-grandson of ministers in the Church of God of Prophecy, the legacy and call to serve as a preacher of the Gospel laid heavily upon Mikey

=s life. On May 30, 1977 Mikey received his Minister=s License in Florida and was later appointed as State Youth Director for the Church of God of Prophecy in Indiana where he met and married the state overseer=s daughter, Deborah Hunter on July 22, 1978. Mikey and Debby started their family with the arrival of a darling little girl, Heidi Michelle, and began their first pastorate in 1981 in West Point, Mississippi.

A state-wide appointment with youth and Christian education would bring the young Jones family to South Carolina in 1983 to serve as State Youth Director and Sunday School Secretary. During this four-year tenure the Mikey Jones, Jr. family became complete with a handsome baby boy, Matthew Landon.

The Jones family continued their pastoral ministry of Church of God of Prophecy congregations in Mt. Pisgah, South Carolina and Greenbrier, Tennessee. During this time Mikey successfully completed his Bachelor of Science degree at Central Wesleyan College at Greenville South Carolina and received a Masters of Theological Arts degree from The Divinity School at Vanderbilt University.

Reverend Jones was ordained by the General Council of the Assemblies of God on August 23, 1993 and accepted the pastorate of the Lakewood Assembly of God in Nashville, Tennessee, serving there until his death this past Thursday. Mikey

=s charismatic demeanor endeared him to his church and community. He served on the chaplain=s staff at Southern Hills Hospital, as founding member of Antioch Churches Together (ACT), baccalaureate speaker for Lavergne High School, baseball coach and commissioner of the Smyrna Youth Baseball League, worked with Teen Challenge and Habitat for Humanity, to mention a few.

Pastor Jones was gifted in many areas and lead his church services in his own creative style. Having the heart of a Shepherd, Mikey cried, laughed and rejoiced with his flock as he lead them to green pastures and beside still waters. He was known for his compassion whether it was manifested by sitting with and comforting families dealing with life-threatening illnesses and death, or becoming a regular blood donor with the Red Cross. Mikey never met a stranger and greeted everyday acquaintances, friends and neighbors with the same enthusiasm afforded VIPs.

Mikey was a loving husband, father, son, brother, uncle, cousin, son-in-law and brother-in-law who brought much joy to our lives. He was spiritual, gifted, unique, sincere, active, funny and a little zany. God must have broken the mold when He created Mikey for there is no one who can take his place.

Knowing Mikey, whenever the host of family, friends and colleagues finally meet him inside the Pearly Gates, he

=ll say, AHey, what took you so long?@

That

=s our Mikey!

CLEVELAND DAILY BANNER May 31, 2000
Reverend Mikey Ceylon Jones, Jr. stepped inside the Celestial City on May 25, 2000 to worship the King of Kings face-to-face. Pastor of the Lakewood Assembly of God church in Nashville, TN since 1993, Pastor Jones has left an indelible mark on the lives of family, friends and church members during the 43 years of his lifetime. He is preceded in death by grandparents Reverend John L. Sullivan of Cleveland, TN and Sam and Evie Jones of Black, AL.
Reverend Jones is survived by his loving and devoted family; wife Deborah S. Hunter Jones and two children, Heidi Michelle and Matthew Landon Jones; parents Reverend Mikey C. and Frances Jones, Sr., of Tampa, FL; three brothers and wives, Quentin and Teresa Jones of Murfreesboro, TN, Garland Jones of Kernesville, NC, Christopher and Carrie Jones of Tampa, FL; one sister, Angel Megan Smythers of Salisbury, MD; grandmother Annie Pearl Sullivan of Cleveland, TN; mother/father-in-law Reverend Harper and Betty Hunter of Cleveland, TN; brother/sister-in-law Reverend Doctor Harold D. and Sondra Hunter of Oklahoma City, OK; and a host of aunts, uncles, nieces, nephews and cousins.
Reverend Jones= 24 years of ministry started with the Church of God of Prophecy in Florida, Indiana, Germany, Mississippi, South Carolina and Tennessee, then continued with the Assemblies of God in Nashville. He leaves thousands of church family and friends who are eager to meet him on the other side.
Family visitation will convene Sunday, May 28 from 1-7 p.m. at Woodbine Funeral Home Hickory Chapel in Nashville and the Celebration Service will be conducted at Mt. Zion Missionary Baptist Church in Smyrna, TN on Monday, May 29 at 11 a.m. Officiating ministers will include Reverend Gene Jackson, Tennessee District Superintendent of the Assemblies of God, Pastor Ronnie Meek of the Smyrna Assemblies of God church, and a cousin Reverend William Wilson, pastor of the Peerless Road Church of God of Prophecy in Cleveland, TN. Pallbearers in Nashville will be the Smyrna Youth Baseball 15-16 Year-Old Astros whom Pastor Jones coached for five years.
Reverend Jones= body will be transported to Cleveland, TN on Tuesday, May 30, for family visitation at Buckner-Rush North Chapel from 11 a.m. to 1 p.m. with interment to follow at Sunset Memorial Gardens also in Cleveland. Officiating ministers will be an aunt, Reverend Verbileene Williamson of Cleveland and Reverend Terry Minter, pastor of Christ Fellowship Assembly of God in Washington, D.C. Family members will serve as pallbearers in Cleveland.
Memorial contributions may be made to Teen Challenge, P.O. Box 187, Madison, TN 37116.